In 1970 Tom graduated from UCSC with a history degree. UCSC is home of the now famed banana slugs.
University of California, Santa Cruz
Omaha, Nebraska is an interesting city with lots of restaurants and a few interesting attractions. For more information about Omaha please use this link: -- Welcome to Omaha. This site will let you look at most of the institutions in the Omaha area including the University of Nebraska Medical Center (UNMC) where Marlene works as an accountant for the pediatrics department.

---
Elisabeth graduated from Central High May 22, 2001 and Indiana University in May, 2005.
During high school Elisabeth had some nice summer travels -- Great Britain/Ireland, Maryland Art Institute, and and Italy/Greece trip in addition to the Oregon trip pictured below. She was an honor student and won some photography awards and scholarships. Elisabeth is now an Indiana University alumnus. General information about Indiana University can be found at the following link.

Indiana University Bloomington Elisabeth is pursuing teacher certification at UNO.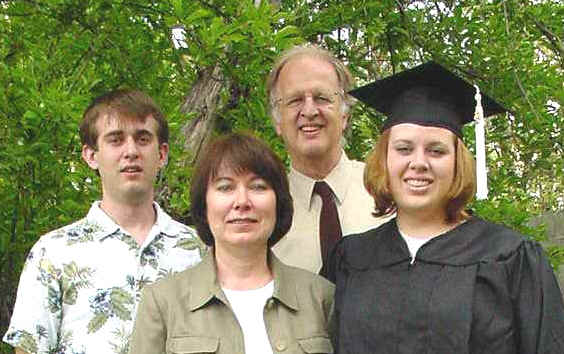 Haskell family in Bloomington for Elisabeth's graduation.
For more information about Central and North High School, feel free to go to the Omaha Public Schools page. -- Omaha Public Schools
---
Ben's accomplishments at North High included participation on the Academic Decathlon team which won two state championships and participated in the nationals at Providence, Rhode Island (1998) and Anaheim, California (1999). Additional awards: All Metro Scholar Team, Super 13 scholarship representative from North High, and 1999 Academy of Achievement's Banquet (Washington, DC). He also won several math contests sponsored by various midwest colleges.
Ben graduated from North High May 24, 1999 and graduated in 2003 from Princeton University. Princeton Visit of 1998 General information about Princeton is available at Princeton University's web page &nbsp Currently living in Pittsburgh and attending grad school at Carnegie Mellon.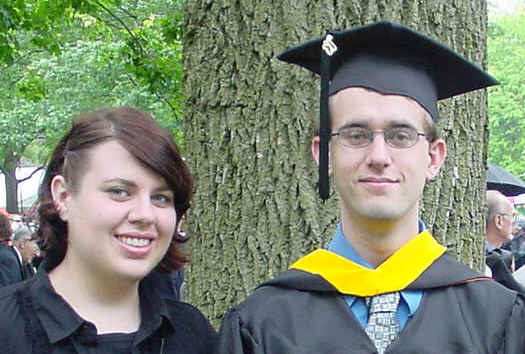 Elisabeth Haskell and Ben Haskell, Princeton Commencement, June, 2003

---
Vacations and events:
Some of the most recent photos are at Webshots including trips to:

Indiana (including graduation 2005)
IALL and MVAEA Conferences

Oregon (several trips)

the HFA Reunion (2002 in Danvers and 2006 in Charleston)

Princeton Graduation 2003

Yellowstone 2003

Our trip to the British Isles in June, 2004 (divided into four parts) including the International Haskell Family Society reunion of June 19, 2004.

Trip to Santa Cruz for 35th College Reunion

July, 2005 trip to Charleston (and 2006 reunion -- see above).
Buenos Aires and Peru, July 2006

Trip to San Luis Obispo for 40th High School Reunion

Boyd Harford Memorial Service in Santa Rosa.

Visit to New England, May, 2007

Trip to England, June, 2007 including Lake District, Bath, and Salisbury

HTML photo collections include the following:
The following links may take a moment or two to load. They include JPEG pictures.
---
Other Interests:
Tom Haskell is also on the Board of Directors for the Haskell Family Association (HFA) and some family roots are pictured at Alexander Cheves Haskell family
Alexander Cheves Haskell is Tom's Great Grandfather. Alexander Cheves Haskell's grandfather was Elnathan Haskell (Tom's Third Great Grandfather). Miniature portraits exist of Elnathan, his wife Charlotte (Thomson), and his in-laws William Thomson and Eugenia (Russell) at the Gibbes Museum in South Carolina. Try the link for a view: Portraits Elnathan's son was the first Charles Thomson Haskell who married Sophia Lovell Cheves. Her father was Langdon Cheves -- one time U.S. Speaker of the House.

South Carolina Cemeteries
Magnolia Cemetery, Charleston, South Carolina Burial place for Langdon Cheves. (Great, Great, Great Grandfather)
Pictures for the next three cemeteries taken on our July, 2005 trip to South Carolina:
Trinity Episcopal Church and Cemetery, Abbeville, South Carolina Burial place for Charles Thomson Haskell. (Great Great Grandfather)
Elmwood Cemetery, Columbia, South Carolina Burial place for Alexander Cheves Haskell. (Great Grandfather)
Trinity Episcopal Church and Columbia, South Carolina Burial place for John Cheves Haskell. (Great Uncle)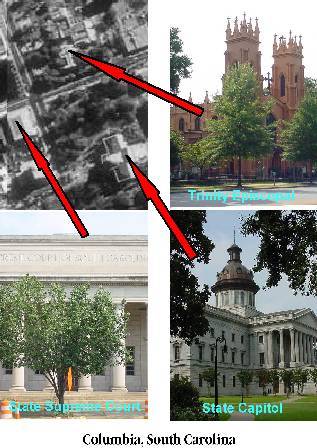 Additional information about PDF files above:
You can save PDF files to your own computer by clicking on the disk icon when the file is open.

Pictures in PDF files can be enlarged by using the magnifying glass icon. Results vary depending upon quality of original picture resolution.
More information about Haskell family organizations:
The Haskell anthology books should be of interest to those planning to go to the Deer Isle Reunion in 2008. Two interesting Haskell anthology books originally published by Win and Trudy Haskell are now available only through the Higginson Book link at the HFA site (use HFA link above and then click on the Higginson Book logo).

There are two Haskell family organizations. The Haskell Family Association is based in North America and admits to full membership only residents of USA and Canada. The International Haskell Family Society is headquartered in England and is open to members world-wide. A quarterly journal is published in both societies.
These newsletters should be of interest to Haskells everywhere. If interested in joining either or both groups you may contact the respective secretaries via David A. Haskell's site via the Haskell web ring link below. Alternatively you may contact me. Planning is underway for a possible September 2008 reunion near Deer Isle in Maine.

In the summer of 2005 the International Haskell Family Association opened a new website which includes information about upcoming reunions:
IHFS Information (Headquarters in UK). There's been quite a bit of updating lately and it's worth a look.



Adult Education Associations
Tom also served as Treasurer for the Missouri Valley Adult Education Association and served as Treasurer for six years for the Iowa Association for Lifelong Learning.
He has also held positions on the Board and has worked on conference planning committees and tries to keep the following two sites updated.
Contact Information and other links.
If you would like to contact me, send mail by clicking here.
Last revision 05 August 2007.