Summer schedules in 2000 were complicated and airline tickets were high. As a result Tom embarked on a solo cross country adventure of 3,986 miles (2,012 westbound, 17 miles in Newport, and 1,957 eastbound.) Part of the goal of this trip was to journey to some of those spots that are just off the beaten track. When you're anxious to get to Yellowstone, or you're anxious to get home, these spots beckon but there just is not enough time.
The first scene below should indicate that the interstate was definitely not the main highway going west. The scene is in Nebraska National Forest -- the only national forest that was "man made" by planting trees in the sand hills of Nebraska.
Routing information: Departed Omaha on Nebraska 64 to U.S. 275, north to Nebraska 91, and west to Nebraska 2. The first town west on Highway 2 is Halsey just before the forest headquarters.
Nebraska National Forest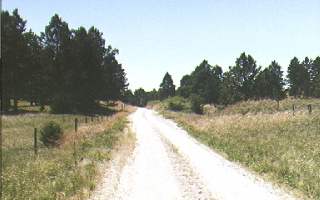 This is an official forest service road that eventually reconnected to a treeless section of U.S. Highway 2 just outside of Thedford. June 8th was unusually hot and the bank signs showed it. Hyannis recorded 100 and Alliance 103. The service station in Crawford said that it had peaked at 105 about an hour before my arrival. However, it was still afternoon and I wanted to get into Wyoming. High temperatures had created some scattered thunderstorms.
Routing information: Continued west on Highway 2 to Crawford. West on Highway 20 to Casper, Wyoming (interstate from Orin to Casper). Took Wyoming 258 (skirted the southern part of Casper) to join Wyoming 220. Wyoming 220 goes by Independence Rock and Devil's Gate (Oregon Trail landmarks) before its terminus at U.S. 287 which I took westbound to my campsite near the junction of 135 and U.S. 287 near the Sweetwater River (and mosquito heaven).
One of the Oregon Trail landmarks I had never seen was Independence Rock where numerous overlanders had carved their names. The lighting was dramatic, but with the threat of lightning I did not see any of the names carved on the rock, nor did I climb on the rock.
Independence Rock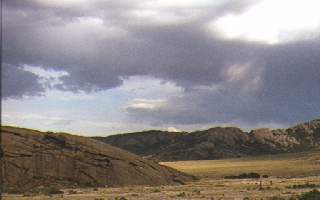 The above picture just shows a portion of the rock. Another site within about five miles of Independence Rock is Devil's Gate. Actually this 15 mile stretch of the Oregon Trail is probably the most interesting. The next stop could have been Split Rock (which we have visited before) -- but it was getting dark and I needed a place to camp.
Devil's Gate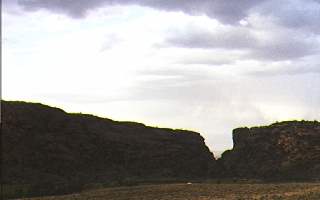 After setting up camp and eating a hot meal I scanned the skies for northern lights but saw none. The scattered clouds did not help. During the night it apparently sprinkled, but the morning was beautiful and sunny. A pronghorn antelope looked across the fence at my campsite, but my camera was in the van. So on to Lander and Sinks Canyon State Park. Sinks Canyon is in the Shoshone National Forest and features a disappearing stream that emerges a quarter of a mile downstream with more water than it had when it disappeared. The following picture is the section just past where the stream re-emerged.
Sinks Canyon State Park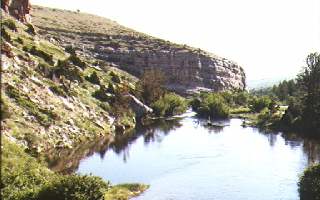 There is a National Forest Service connecting road to Wyoming 28 from Sinks Canyon and it had some dramatic switchbacks. While the road was not really recommended for automobile travel several individuals managed to get their travel trailers and campers around the numerous switchbacks even though most of the road was slightly less than two cars wide. Continued on past South Pass (the high point of the Oregon Trail at 7,550 ft.) to Kemmerer and Fossil Butte National Monument where I received a cold dousing from a fast moving storm. Then it was on into Utah. Bear Lake straddles the Utah/Idaho border and shows an unusual color -- almost aquamarine -- but the cloudy skies muted the effect.
Bear Lake from U.S. 89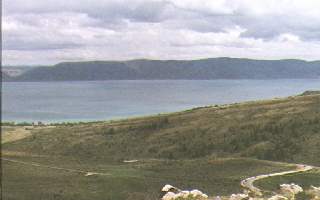 Routing information: Continued west on U.S. 287 to Lander, south on Wyoming 131 to Sinks Canyon State Park, and continued via Forest Service Road to Wyoming 28. Took Wyoming 28 to its terminus at Wyoming 372 until it joined U.S. 189 which was followed south to Kemmerer. Took U.S. 30 west until the Fossil Butte turn-off. Just past Sage took Wyoming 89 to connect with Utah 30 (shares with U.S. 89 from Garden City to Logan) which was followed to Fielding before dropping down to Trementon to connect with I-84 westbound.

For the more of this trip see: More...Part 2